Tesira
Tesira Product List

Tesira is the leading integrated networked AV processing and distribution platform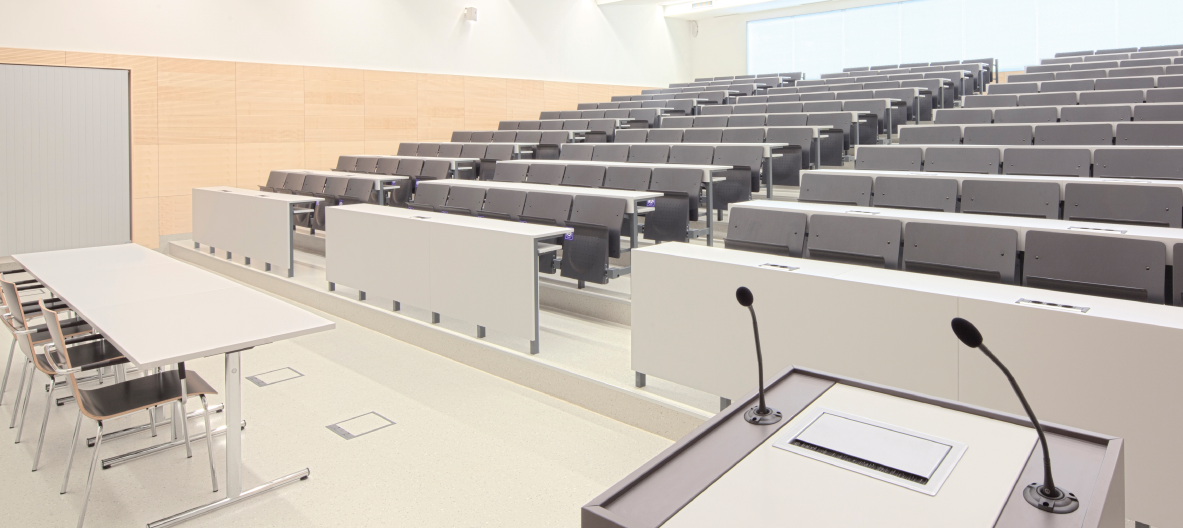 DSPs For Conference
Rooms Of All Sizes

One Software Platform
For Easy Commissioning

Platform For Both
Audio And Video

Guaranteed System
Transit Latency
---
Platform Highlights
Uses AVB/TSN for digital media transport, but is also compatible with Dante™ and CobraNet®
A single design software environment for both audio and video projects (no workarounds required)
Shared DSP model means never buying more processing power than you need
Architectural flexibility allows you to design a system exactly the way you want
Scalability that makes it easy to add endpoints or DSP without redesigning from scratch
Beamtracking ceiling microphones actively track and intelligently mix conversations
Guaranteed system transit latency and precise time synchronization for automated lip sync management
Easily connect to soft codec conferencing providers via USB
Platform certification from major VoIP providers including Avaya, Cisco, Mitel, and Shortel
AEC and ANC offer enhanced capabilities for distinguishing between human speech and noise
Transmits 4K60 video with port-to-port latency of 1 to 1.5 frames

---
We offer flexible, powerful solutions for AV installations large & small.
Our flagship platform, Tesira is the leading integrated networked AV processing and distribution platform. Sophisticated, adaptive DSP is the core of what Biamp does and what Tesira delivers. Tesira SERVER and SERVER-IO are configurable I/O DSPs, while TesiraFORTÉ devices are fixed I/O DSPs available in different models optimized for specific applications. Rounding out Tesira DSPs are the TesiraLUX video encoders and decoders. All Tesira products can be configured and managed using Tesira software, helping you create the dynamic, efficient AV systems your customers need. With a single networked platform, Tesira truly is enterprise-wide media made simple.
You've got more projects on your schedule than ever. That's why Tesira is here.
Tesira is Biamp's flagship audio and video platform, and a true networked media system. The Tesira platform is loaded with audio and video processing capabilities all of which are designed and commissioned from a single software platform, saving you time and resources.
Tesira devices are built to handle anything.
The Tesira platform supports popular AV network protocols, including AVB/TSN, CobraNet®, and Dante®. Tesira supports technologies that meet your AV and networking needs now and well into the future.
---
AVB/TSN DIGITAL
MEDIA TRANSPORT

Audio Video Bridging/Time Sensitive Networking is a media transport platform designed to transfer synchronized, low latency audio and video streams over Ethernet networks.




VIDEO
TECHNOLOGY

Networked video has become a professional must-have. However, the challenge remains for ensuring the media streams arrive at the right place, at the right time.




AUDIO
TECHNOLOGY

Biamp has built its reputation on great sound. It's been our business for 40+ years. Our technology allows conversation to flow naturally and be heard, whether you are communicating on a conference call, in a lecture hall, or in a courtroom.





NETWORKED
MEDIA SYSTEMS

Networked Media Systems (NMS) are the natural evolution away from isolated systems, and are designed to maximize system resources while simplifying system administration. Our Tesira and Vocia DSP platforms support a number of different NMS configurations, allowing us to effectively support a wide range of installation use cases.



BEAMTRACKING MICROPHONES

Beamtracking technology allows a single microphone to cover a wide area with little to no setup, since the microphone identifies and locks to a signal source—even if the person speaking is moving around.




Biamp's Audio Product Manager, Zach Snook, discusses why customers should choose Tesira—the world's first truly integrated audio and video platform.
Our sales and support teams are ready to help.
Contact us today.