AV TECHNOLOGY THAT DELIVERS UNPARALLELED CLARITY
Clear communication is integral for court proceedings of all sizes. With solutions designed for optimized audiovisual reproduction, speech privacy, and distance conferencing, Biamp delivers the means for all judicial services to be conducted with unmatched accuracy and clarity.
Ensuring that every member of the jury can clearly hear speech from attorneys, witnesses, and judges, as well as any audio evidence presented during a trial, is imperative. Our loudspeakers are engineered for sound that delivers optimized audio reproduction, enabling every juror to experience the proceedings with upmost clarity.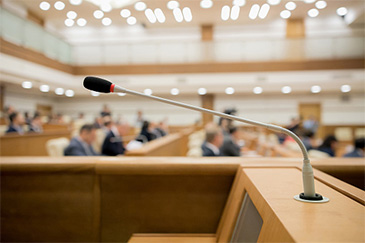 RECOMMENDED PRODUCTS
DESIGN GUIDES
CUSTOMER STORIES
To make certain that conversations remain confidential and focus is maintained, judge's chambers require measures that enable maximum speech privacy. Biamp's sound masking solutions reduce noise distractions from outside while protecting words spoken within the room as well.
With remote court proceedings, ensuring flawless audiovisual quality is of paramount importance. Biamp's conferencing solutions are designed to overcome traditional distance communication barriers, enabling flawless video streaming and audio clarity unsurpassed within the industry.
The ability to remotely perform arraignments, plea agreements, and other cursory court activities saves time, money, and labor. Biamp offers best-in-class conferencing options designed to provide superior connections without sacrificing ease of use, ensuring the clarity and accuracy legal proceedings demand.
In major cities where many languages are spoken, qualified interpreters may be easy to find; however, residents of smaller towns or speakers of uncommon languages can have a more difficult legal journey without the same resources. With Biamp's optimized conferencing solutions, distance court interpreters can translate simultaneously – meaning the talker and the interpreter can speak at the same time, preserving the natural flow of the conversation – over an echo-free, natural sounding connection. Biamp's technology eliminates the need for interpreters to be physically present in the courtroom, reducing costs and allowing courts of all sizes and locations to support a wider array of interpretation services.
Speech privacy and clear intelligibility is needed to accommodate conference rooms utilized for legal purposes. Our high-performance line of loudspeakers, combined with our versatile audio solutions such as sound masking, ensure every proceeding can benefit from optimized audiovisual experiences.
Ninth Judicial Circuit Court
With the scalability and adaptability that Biamp provides, the unknown is not so scary anymore."

- Jamy Crum, Audio/Visual Department Senior Engineer, Ninth Judicial Circuit Court
Long Beach Superior Court
We knew from experience that Biamp equipment could easily handle the scope and customization levels that we required."

- Frank Vass, Manager of Engineering, ExhibitOne Corporation
TALK TO AN EXPERT
Fill out this form and a Biamp expert will reach out to you via phone or email. In some regions we may share your contact details and inquiry with one of our qualified third-party sales partners to follow up directly to ensure better local service. For more information please see our Privacy Policy.