Company Overview & Leadership
Around the world, around the clock, Biamp manages and delivers immersive AV experiences.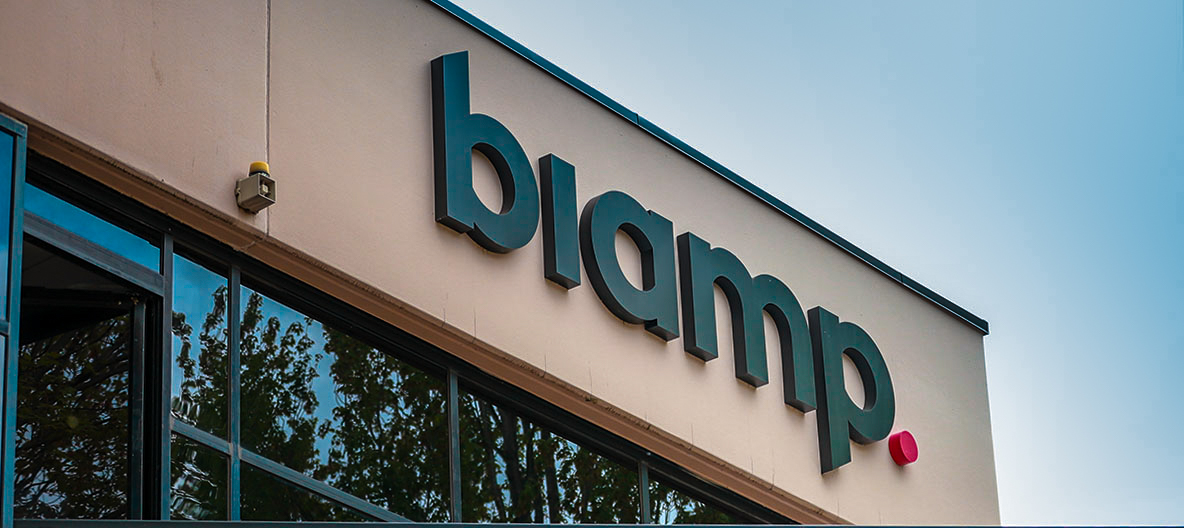 Our Product Is
Our People

Helping Customers
Succeed Is Our Passion

Years Of Innovative
Solutions

Award-Winning
Products
---
We deliver, manage, and enhance professional audio and video for the most effective, natural communications possible.
For over 40 years, Biamp has created professional audiovisual solutions that enable great communication. From the smallest of rooms to the largest of venues, we empower true human connection in every space.

Our desire to exceed the accepted standards of audiovisual technology is matched only by our commitment to our customers. Initial design, engineering, manufacturing, and testing are all managed within our own facilities, leading to shorter lead times, faster response, and greater convenience for our clients.

Delivering a quality product experience also means helping you maintain them. Our applications engineers, customer service teams, and regional managers are always there for you. Whether you need assistance with system design or an answer to a technical question, we're here for you.

We've also acquired organizations that share our dedication to excellence, providing comprehensive solutions for a wide variety of applications: Cambridge Sound Management, the world leader in sound masking; Community Loudspeakers, respected manufacturer of premium speakers; and Apart Audio, provider of commercial and leisure audio solutions.

As we grow to meet our customers' needs, and evolve to address the challenges of tomorrow, one guiding principle remains the same: Biamp connects people through extraordinary audiovisual experiences.
Download the Biamp overview.
Biamp's leadership team is composed of seasoned professionals who are committed to expanding our earned reputation as a world leader in audio/video innovation and unsurpassed customer service.
Rashid Skaf
President, Chief Executive Officer and Co-Chairman

---

Rashid is the President, CEO and Co-Chairman of Biamp Systems. He joined the company with the acquisition by Highlander Partners. Prior, Rashid served as President and CEO of AMX beginning in 2005. During his 15-year tenure at AMX, the company's revenue and employee base grew rapidly through organic product expansions and nine global acquisitions.

Before joining AMX, Rashid was vice president and general manager of Nortel Networks Broadband Wireless Access (BWA). He joined Nortel when the company acquired Broadband Networks Inc. (BNI), where he served as executive director.

---

Alex Buchanan-Munro
Vice President and Chief Financial Officer

---

Alex Buchanan-Munro is the Vice President and Chief Financial Officer for Biamp Systems. He joined Biamp in early 2008 as Chief Financial Accountant. Prior to this, he served as Controller for other high tech manufacturers, including Applied Materials and BOC Edwards. Originally a native of Brighton, England, he earned a Bachelor of Arts honors degree in accounting and finance from the University of Brighton and is an active member of the Chartered Institute of Management Accountants (CIMA). He is also an avid runner, soccer fan and player, and guitarist.

---

Joe Andrulis
Executive Vice President of Corporate Development

---

Joe Andrulis is the Executive Vice President of Corporate Development. Joe joined Biamp Systems after it was acquired by Highlander Partners where he served as an industry consultant. Previously, he ran global marketing for the professional AV icon AMX, helping transition the company from a system component marketer to meeting room productivity solutions provider. He has extensive experience driving strategy, research, and modern marketing organizations at Research Now, RF Monolitihics, Blue Wave Systems, and several start-up ventures.
Press Releases
.
---
Biamp Announces Direct to Market Distribution in the United Kingdom and Ireland
Biamp enhanced the company's ability to support customers and drive growth in the United Kingdom and Ireland.
Biamp Announces European Unified Solutions Tour
Tour Will Showcase Biamp's Newly Launched Products and Innovative AV Solutions Throughout Multiple Cities in Europe
Biamp Announces Title Sponsorship of 2020 PDX Jazz Festival
Underscoring its Commitment to Extraordinary Audiovisual Experiences, Biamp Brings 17th Annual Edition of the PDX Jazz Festival to Life
Events
.
---
TRADESHOW AND EVENT PARTICIPATION SUSPENDED THROUGH APRIL 15, 2020
SYMCO Technology Showcases 2020
Learn about our manufacturing process with Tray Gibbs, and why we think our best product is our people.
Our sales and support teams are ready to help.
Contact us today.