AV SOLUTIONS FOR HOSPITALITY & LEISURE
SOUND THAT ENHANCES AMBIANCE AND COMFORT
We provide powerful audio technology that hospitality and leisure environments require. Designed for easy setup and easier use, our solutions enable superior audio designed for the needs of hotels, bars, clubs, and outdoor entertainment areas.
With multiple floors, dozens of rooms, and large common areas, hotels require versatile audio solutions capable of serving many spaces and needs at the same time. Biamp's unparalleled voice communication and loudspeaker options let staff stay in touch with the entire building while allowing for background music in select ballroom, bar, and restaurant areas. Additionally, sound masking solutions help prevent noise from common areas and lobbies from permeating guest rooms.
It's imperative that the music bars and clubs play aligns with their overarching aesthetic, as complimentary selections can help grow sales up to 9%. Our expansive loudspeaker options guarantee we can supply the right fit for your establishment, whether it's low-profile models that blend in for background music or high-powered, large-format varieties designed for reproduction at maximum volumes.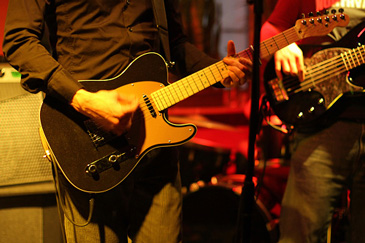 RECOMMENDED PRODUCTS
DESIGN GUIDES
RELATED CUSTOMER STORIES
Few spaces present a greater auditory challenge than gaming floors, with their beeps, sirens, clinking change, and player reactions, good and bad. Thanks to Biamp's carefully engineered loudspeaker and voice communication solutions, players can enjoy background music and hear important announcements and alerts that cut through the gaming noise.
To be heard over exercise equipment, squeaking shoes, and the other sounds that dominate fitness environments, a powerful audio solution is required. Our voice communication system and optimized loudspeaker options are designed to overcome acoustic difficulties inherent in gyms and studios, delivering superior speech intelligibility and music playback.
Implementing superior audio in outdoor environments presents its own unique set of challenges. Thanks to Biamp's loudspeaker solutions specifically designed for both superior music playback and to withstand the elements, outdoor bars, lounges, and pool areas can achieve the ambiance that keeps customers coming back for more.
Large spaces with high ceilings capable of housing hundreds or even thousands of guests require powerful audio to serve every attendee. Biamp's superior large venue loudspeaker options and optimized voice communication system equip any convention center or ballroom to deliver music, speech, and alerts with equal strength and clarity.
CONTACT US
Fill out this form and a Biamp expert will reach out to you via phone or email. In some regions we may share your contact details and inquiry with one of our qualified third-party sales partners to follow up directly to ensure better local service. For more information please see our Privacy Policy.