With the right technology in place, students and staff can focus on achieving their goals.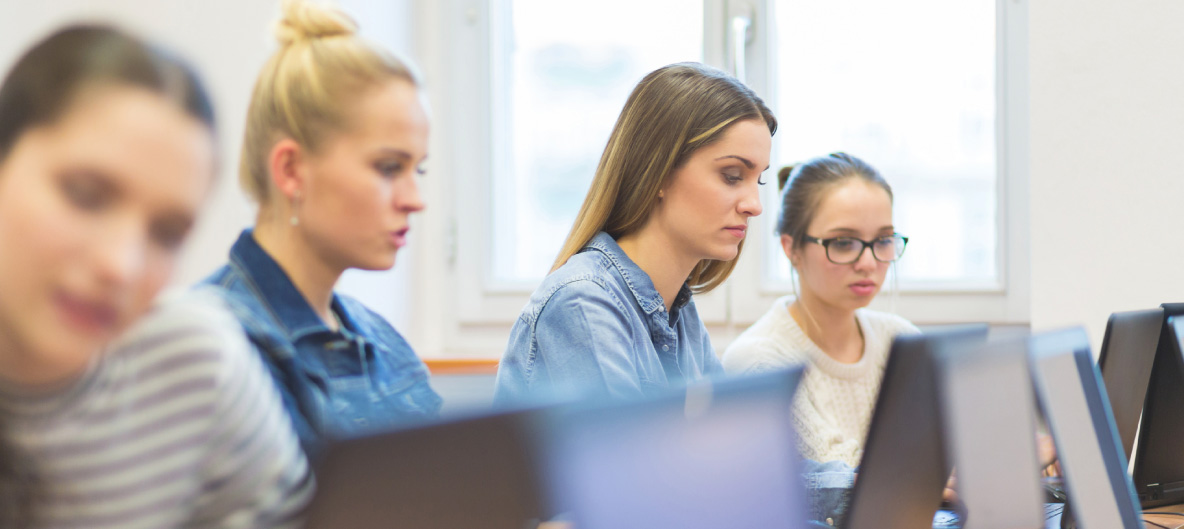 As modern education moves toward collaborative environments, speech intelligibility is crucial for understanding new and complex topics.
From primary education to major universities with 40,000+ enrollees, Biamp offers AV solutions that meet the requirements of almost any educational institution. Some of the audio and video applications we support include:
Active learning classrooms
Classrooms with multimedia capabilities
Collaboration spaces
Distance learning
Emergency paging
Lecture capture
Sound reinforcement

Modern education takes place in a variety of settings. The Tesira platform supports remote learning, lecture capture, and brick and mortar classrooms. TesiraLUX facilitates bi-directional screen sharing in active learning classrooms, and Tesira can also provide the audio and video processing for lecture capture, as well as for lecture halls and overflow classrooms. Instructors can connect laptops to TesiraFORTÉ via USB and use a soft codec like Skype™ or GoToMeeting® to broadcast the lesson to remote students.

Biamp's Vocia family offers campus-wide paging, as well as critical incident paging. Critical incident page codes can be programmed to interrupt lectures in classrooms that are equipped with Biamp's Tesira, delivering vital messages regarding critical incidents, natural disaster warnings, evacuation notices, shelter in place orders, and more.

Both faculty and students can take advantage of Devio's easy to use conferencing tools. When ad hoc meetings are needed in smaller spaces, Devio is the perfect fit for getting collaboration sessions up and running quickly.
---
Biamp products help enhance the education experience and work in a variety of settings, doing a variety of jobs. From active learning classrooms and sound reinforcement in auditoriums, to campus-wide paging, Biamp products take education beyond the classroom.
TESIRA

Thanks to Tesira SERVER, you can share DSP processing and hardware across multiple rooms, which supports instruction and collaboration by allowing a single professor to lead a session in more than one classroom. TesiraLUX interfaces with lecture capture devices, allowing professors to record high quality audio and video from their lessons for later use. Advanced software capabilities like auto mixers and dynamic processing eliminate the need for manual adjustment of volume levels. Tesira amplifiers offer greater flexibility in sound reinforcement and distribution because they can receive a signal from anywhere in the audio network.

Tesira Features:
• Audio and video processing and routing throughout the lecture halls and overflow rooms
• Automatic gain control for dynamically adjusting the gain/volume on all microphones
• Integrated lip sync management for displaying instructor camera feeds
• Interfaces with lecture capture servers
VOCIA

In addition to traditional classrooms, modern school facilities feature multiple structures that can include offices, multimedia rooms, auditoriums, cafeterias, gymnasiums, locker rooms, and libraries. School administrators need to communicate clearly and effectively with students and staff in the event of an emergency. Vocia offers numerous solutions for non-emergency and emergency paging, as well as support for background music, interfacing with a school's bell system and scheduled and pre-recorded messages.

Vocia Features
• Decentralized networking with no single point of failure
• Standard, critical and emergency paging in one platform
• Multiple paging options, including live, pre-recorded, and emergency
• Scalable to grow with a facility's needs
DEVIO

Administrators, Faculty and even students need private spaces to conduct meetings and conference calls without disruptions. Traditional conference rooms are too large and formal for everyday collaboration needs. Huddle spaces are a natural complement add hoc collaboration, but these spaces need quality conferencing equipment without the hassle. That's where Devio can help.

Devio Features:
• Single cable connectivity to laptop with USB 3.0
• Automatic room setup
• Acoustic echo cancellation and automatic gain control
• 8 element beamforming microphone in two form factors—tabletop or ceiling mount
Our sales and support teams are ready to help.
Contact us today.