Highly Reliable

Exceptional Audio

Scalable

Flexible
---
Product Highlights
Highly Reliable
Decentralized network
No single point of system failure
Active monitoring and reporting
Compliant with international safety standards
Covered by Biamp Systems' five-year warranty
Worldwide technical support
Exceptional Audio
Ambient noise reduction for main gathering areas
Superior clarity and intelligibility
Integrated DSP
Scalable
Easy integration with other systems
Can connect to existing fire panels
No new wiring required
Manage all Vocia devices via Ethernet
Meets customers' needs now and well into the future
Flexible
Software-based zone definition allows easy changes or additions
Ability to target pages to a specific audience
Supports CobraNet®, VoIP, POTS, PoE, PBX, and TTS
No special engineering or customization needed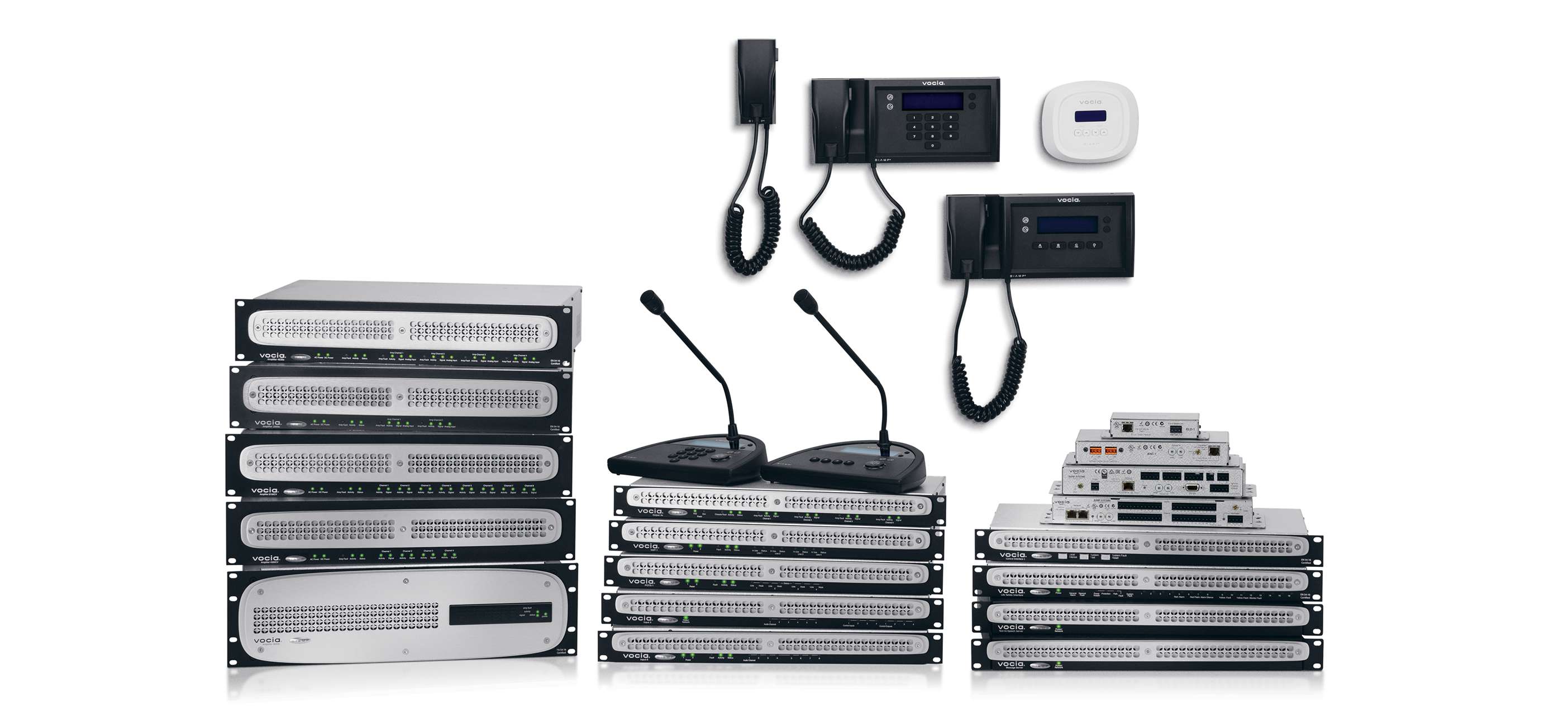 ---
Vocia is a powerful emergency communication and paging system, ensuring your messages are heard and understood.
Vocia is a highly reliable solution that provides excellent audio quality while managing all your paging, background music, and emergency communication requirements. It is powerful, scalable, and flexible, and can meet a facility's needs well into the future. Vocia's clarity and intelligibility are just some of the features that make this platform so special. Vocia not only gets messages where they need to go, but also ensures everyone can hear and understand those messages.
Multipurpose paging systems you can trust.
Vocia was designed to meet the exacting specification and requirements demanded of professional-grade, multipurpose paging systems and provide a futureproof solution.
Vocia: Working hard behind the scenes so you don't have to.
Whether it's supporting general and emergency paging in a corporate campus, or alerting travelers to a platform change at a train station, Vocia is working hard so you don't have to. Vocia uses standard IP technologies such as VoIP and integrates with existing IP networks for mutli-site installations.
---
AUDIO
TECHNOLOGY

Biamp has built its reputation on great sound. It's been our business for 40+ years. Our technology allows conversation to flow naturally and be heard, whether you are communicating on a conference call, in a lecture hall, or in a courtroom.





NETWORKED
MEDIA SYSTEMS

Networked Media Systems (NMS) are the natural evolution away from isolated systems, and are designed to maximize system resources while simplifying system administration. Our Tesira and Vocia DSP platforms support a number of different NMS configurations, allowing us to effectively support a wide range of installation use cases.



AMBIENT NOISE COMPENSATION

Ambient Noise Compensation (ANC) technology allows the volume of overhead pages and announcements to be adjusted automatically up or down based on real-time background (ambient) noise levels.




ZONED
PAGING

Vocia offers software-based zoned paging, allowing facility operators to send targeted pages to specific areas affected by the information, without disrupting unaffected areas or costly rewiring.




COMPREHENSIVE SYSTEM MONITORING & REPORTING

Our Vocia platform includes several options for comprehensive system monitoring and reporting that can be customized based on your project's needs.


From everyday life, to changing lives, to saving lives—let your voice be heard with Vocia.
Our sales and support teams are ready to help.
Contact us today.