We offer a number of solutions for your business communication challenges.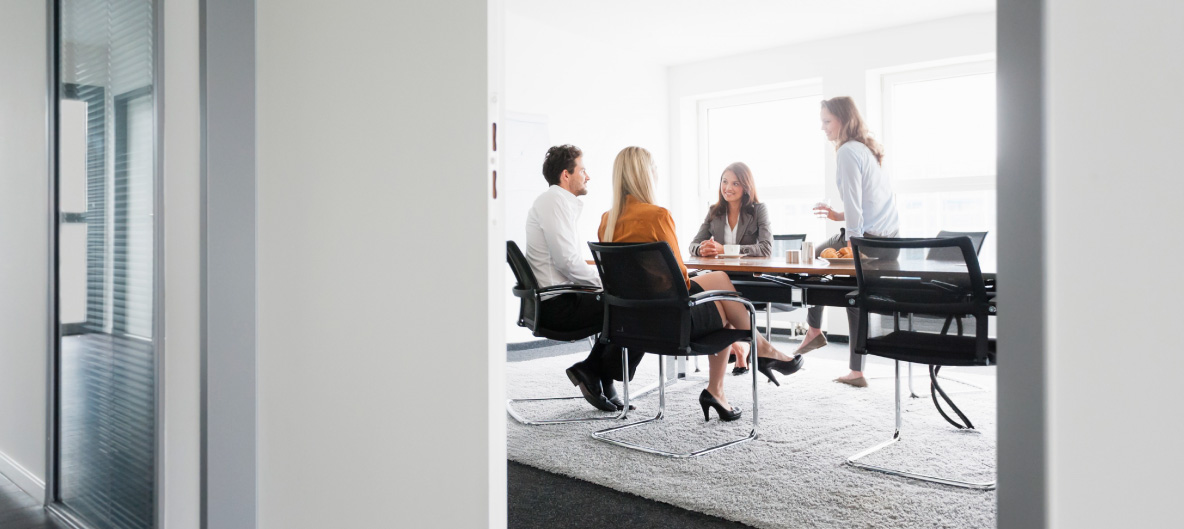 Choosing the right technology is key to facilitating business goals for growth and profitability.
With the general shift in business towards open floor plans, combined with unprecedented numbers of employees working remotely, effective corporate communication is more important than ever.

Organizations of all sizes trust Biamp to deliver, manage, and enhance audio and video for the most effective, natural communications possible. Our Devio family is an ideal, cost-effective conferencing solution for small collaboration spaces. Its beamforming microphone provides 360° coverage of the room, tracking and intelligently mixing conversation in real time. For larger rooms, our Tesira platform contains a series of DSP products targeted at different room sizes and is well-suited for a number of business communications challenges ranging from single-room VoIP/POTS teleconferencing, to multi-purpose spaces requiring rapid AV configuration, to sound reinforcement in auditoriums.

Every business also needs a reliable and effective method of communicating with employees and visitors during emergency situations. With Vocia's critical paging tools in place, you can share vital information across all Vocia-equipped areas of a corporate structure or campus in real-time.
---
Every industry has unique opportunities for system design, and each installation requires solutions that are powerful and flexible enough to suit a business' ever-evolving needs. No matter your field, we know you need quality audio and video equipment that's up to the challenge.
TESIRA

Tesira is Biamp's flagship audio and video platform, and a true Networked Media System–uniting the A and V of the AV industry. The Tesira platform is loaded with audio and video processing capabilities, all of which are designed with business in mind.

Tesira Features:
• Acoustic echo cancellation
• Configurable USB audio for direct connection with soft codec conferencing solutions
• VoIP integration
• Easily expandable to include additional rooms and devices
• Multiple video sources can be streamed simultaneously to different meeting rooms
VOCIA

For facilities requiring emergency paging and voice evacuation technology, Vocia allows emergency personnel and other designated individuals to communicate quickly and easily with employees in the event of an emergency. Vocia also provides zoned paging to direct messages to the areas where they are needed, without disturbing workers in other parts of the building or campus.

Vocia Features
• Decentralized networking with no single point of failure
• Standard, critical and emergency paging in one platform
• Multiple paging options, including live, pre-recorded, and emergency
• Scalable to grow with a facility's needs
DEVIO

The trend of open office environments—where dozens of workers share an open floor plan without traditional closed offices or cubicles—shows no sign of slowing. However, everyone still needs a private space to conduct meetings and conference calls without disturbing their colleagues. Traditional conference rooms are too large and formal for everyday collaboration needs. Huddle spaces are a natural complement to this growing need. That's where Devio can help.

Devio Features:
• Single cable connectivity to laptop with USB 3.0
• Automatic room setup
• Acoustic echo cancellation and automatic gain control
• 8 element beamforming microphone in two form factors—tabletop or ceiling mount
Our sales and support teams are ready to help.
Contact us today.