Mar 27, 2019
Biamp Hires David Woolf as Senior Marketing Director
Experienced Technology Marketer to Lead Global Communications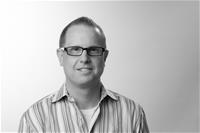 BEAVERTON, Ore. — Biamp has appointed David Woolf as the company's new senior director, global marketing. In this role, Woolf oversees all elements of the company's corporate communications, product marketing, demand generation, web properties, public relations, and social media to ensure a unified voice and strategy as the company grows through internal product development, geographic expansion, and company acquisition.
"Biamp acquired two companies last year and made seven major product announcements in the last month alone. Our rapid growth and entry into new product categories and market segments requires us to strengthen and expand our marketing activities significantly. Building a team to tell our story effectively to these new audiences and integrate the brands we acquire is essential," stated Rashid Skaf, president and CEO for Biamp. "David's deep experience in the types of products we manufacture and the markets we serve, as well as his long track record of success, make him the perfect person to take on this mission."
"Biamp is an exciting company in the midst of a tremendous period of growth. It's moving fast and doing great things and I'm excited to be taking over leadership of the marketing function during this critical period," stated Woolf. "I used Biamp solutions in previous roles and was always impressed by the products and the company behind them. I'm thrilled to be helping carry that tradition of excellence forward."
Woolf has more than 20 years experience creating, developing, managing and marketing technology products, software, websites, mobile apps, and services to professional, public, and consumer markets at Steelcase, InFocus, NEC, Tektronix, and Andersen Consulting (now Accenture). He has held multiple management positions of increasing responsibility running product management, product marketing, product development, product ownership, service, tech support, strategy, product planning, channel marketing, public relations, and corporate marketing.
More information on Biamp's full product portfolio is available at www.biamp.com.
About Biamp
Biamp® is a leading provider of innovative, networked media systems that power the world's most sophisticated audiovisual installations. The company is recognized worldwide for delivering high-quality products and backing them with a commitment to exceptional customer service. 
Biamp is dedicated to creating solutions that drive the evolution of communication. The award-winning Biamp product suite includes Tesira™ media systems for digital audio and video networking, Devio™ collaboration hubs for modern workplaces, Modena™ wireless presentation systems, Cambridge™ sound masking solutions, Vocia™ networked public address and voice communication systems, Crowd Mics™ audience engagement tools, Desono™ loudspeakers for business audio, and Community™ loudspeakers for installed sound applications. Each solution has its own specific feature set that can be customized and integrated in a wide range of applications, including boardrooms, conference centers, huddle rooms, open floor environments, performing arts venues, courtrooms, hospitals, transportation hubs, campuses, retail and hospitality environments, and military and government facilities. Biamp solutions also enable optimized remote collaboration capabilities.
Founded in 1976, Biamp is headquartered in Beaverton, Oregon, USA, with additional offices around the globe. For more information on Biamp, please visit www.biamp.com.
All trademarks and registered trademarks mentioned herein are the property of their respective owners.
Follow Biamp Systems
LinkedIn: bia.mp/linkedin
Twitter: bia.mp/twitter
Facebook: bia.mp/facebook
Instagram: bia.mp/instagram
YouTube: bia.mp/youtube
Blog: bia.mp/blog
Our sales and support teams are ready to help.
Contact us today.
orders support

---

Email:
moc.pmaib@sredro

Global Phone:
1 800 826 1457 opt 1

Europe Phone:
+32 3 448 01 60




---

For order status, shipping status, shipping quotes, product availability, and returns processing status