Jun 12, 2019
Biamp Awarded Industry Recognition for Cambridge Sound Masking Solution
Commercial Integrator Honors Biamp's Cambridge QtPRO® with BEST Award for Acoustical Treatment
ORLANDO, Fla.
—
Biamp
announced that its Cambridge Sound Management QtPRO
®
direct-field sound masking system received Commercial Integrator (CI)'s 2019 BEST Award in the acoustical treatments category. Winners were selected by a panel of CI editors and top industry leaders based on innovation, functionality, competitive advantages, and benefits to the installer. Only six months after acquiring Cambridge Sound Management, Biamp has seamlessly integrated this leading sound masking technology as part of its end-to-end solutions, evidence of Biamp's continued success in building comprehensive AV solutions that deliver extraordinary experiences.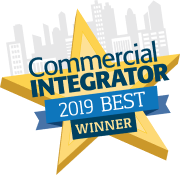 "We are committed to providing comprehensive, end-to-end AV solutions for spaces of every size," said Biamp's Executive Vice President, Corporate Development, Joe Andrulis. "Over 30,000 customers and more than half of the Fortune 500 companies depend on Cambridge sound masking technology as a solution to today's most difficult communication and collaboration challenge — how to stay focused and productive while working in an open office plan."
QtPRO is the most popular direct-field sound masking system available on the market. The QtPRO uniformly disperses a pre-tuned signal directly from the ceiling into a workspace, resulting in consistent, comfortable ambient sound throughout. Consisting of the Qt® emitter and a control module, the system only requires standard category cables for connection.
Cambridge sound masking solutions help organizations of all sizes protect speech privacy, reduce noise distractions, and increase workplace productivity. The product family includes the QtPRO direct-field sound masking system and the DynasoundPRO® Networked System, an in-plenum sound masking solution.
More information on Biamp's full product portfolio is available at
www.biamp.com
.
About Biamp
Biamp® is a leading provider of innovative, networked media solutions that connect people through extraordinary audiovisual experiences. The company is recognized worldwide for delivering high quality products and backing them with a commitment to exceptional customer service. 
The award-winning Biamp product suite includes Tesira™ digital signal processors, Devio™ conferencing hubs, Modena™ wireless presentation systems, Impera™ control systems, Apprimo™ touch interfaces, Cambridge™ sound masking solutions, Vocia™ networked public address and voice communication systems, Desono™ business audio loudspeakers, and Community™ performance loudspeakers, among others. Biamp solutions are used in a wide range of applications, including conference rooms, open floor environments, performing arts venues, stadiums, courtrooms, hospitals, transportation hubs, classrooms, retail and hospitality environments, and government facilities. Biamp solutions also enable optimized remote collaboration capabilities.
Founded in 1976, Biamp is headquartered in Beaverton, Oregon, USA, with additional offices around the globe. For more information on Biamp, please visit www.biamp.com.
All trademarks and registered trademarks mentioned herein are the property of their respective owners.
Follow Biamp Systems
LinkedIn: bia.mp/linkedin
Twitter: bia.mp/twitter
Facebook: bia.mp/facebook
Instagram: bia.mp/instagram
YouTube: bia.mp/youtube
Blog: bia.mp/blog
Our sales and support teams are ready to help.
Contact us today.