AV SOLUTIONS FOR BUSINESS
COMPLETE SOLUTIONS FOR THE MODERN WORKSPACE
Built for consistent performance and fast results, Biamp products combine premium engineering and easy deployment within streamlined designs. With superior sound quality and unparalleled management tools, our solutions enable reliable audiovisual systems and clear communication within every corporate space.
Maximize your organization's productivity with Biamp conference room solutions, which deliver truly extraordinary communication with unparalleled ease of management. Our products enable seamless audiovisual experiences for meeting spaces of all sizes.
The flexibility provided by multiuse spaces and make them the most used meeting rooms within many organizations. Biamp's solutions are designed to accommodate the many applications for which these multipurpose rooms may be used within your facility. Our conferencing solutions, when combined with our high-performance line of loudspeakers, enable the versatility multiuse spaces require, making every meeting a great experience regardless of meeting size and presentation requirements.
A Voice Communication System (VCS) performs vital functions for every type of facility. Biamp's solution stands out thanks to its distributed, decentralized architecture for failsafe reliability and customizable, zone-based communications functionality; combined with our tireless dedication to audio excellence, our VCS solution provides optimal sound reproduction.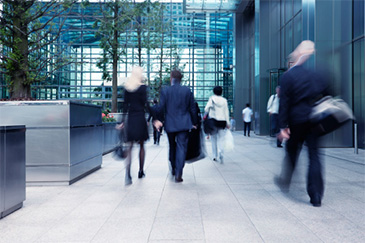 DESIGN GUIDE

Keeping employees informed via announcements and emergency alerts is essential for maintaining a safe workspace. Biamp's paging solutions deliver voice messages with unparalleled clarity, while also providing the necessary functionality to enable background music for public areas like lobbies and entryways.
Sound masking is the addition of a specifically tuned ambient background sound that targets the same frequency as human speech, reducing its ability to be understood. By adding sound masking to a workplace, overheard conversations are notably less intelligible, and thus less distracting. As a result, workplaces become more comfortable, private, and productive environments.
CUSTOMER STORIES


VIDEO TESTIMONIALS


Biamp helps Uber make more employee-friendly conference rooms
I think that magic was really in the Biamp Devio solution…Devio's auto calibration just worked really, really well and gave us amazing quality."

Joey Loeffler
VP San Antonio Sound & Light
Sound masking, background music, and paging at Amica Insurance Company
We've been so impressed with the results that (Biamp) is now installed every time we renovate or relocate a branch. It's now in most of our locations."

Ron Rivet
Network Operations Section Manager
Amica Mutual Insurance Company

TALK TO AN EXPERT
Fill out this form and a Biamp expert will reach out to you via phone or email. In some regions we may share your contact details and inquiry with one of our qualified third-party sales partners to follow up directly to ensure better local service. For more information please see our Privacy Policy.