Biamp Systems – Strategic Partner for Google Hangouts Meet
Our TesiraFORTÉ series of digital signal processors are certified for use with Google Hangouts Meet hardware.
The audio quality in conference rooms greatly impacts the effectiveness of meetings, and our advanced products provide exceptionally clear audio to participants on the other end of the call. Think of us as an easy-to-use audio peripheral—all it takes to connect our audio solution to Hangouts Meet is a single USB cable.

PARLÉ BEAMTRACKING™ PENDANT MICS
Our Beamtracking™ technology allows a single microphone to cover a wide area with little to no setup, since the microphone identifies and locks to a signal source—even if the person speaking is moving around. Our Beamtracking microphones also intelligently mix conversations from around the table, allowing far-end conference participants to experience a more natural-sounding conversation.
Comprising a pendant microphone and plenum box, each microphone divides a room into three 120-degree zones— providing full 360-degree coverage of the meeting space— while only requiring one channel of AEC per pendant. The patented interactions between our AEC and beamtracking algorithms dynamically adjust the output in real-time to ensure far-end echo is minimized. Each plenum box comes with an additional RJ-45 connector for daisy-chain connections. A maximum of three microphones are permitted per daisy chain.

EQUIPMENT LIST
(1) TesiraFORTÉ AVB VT4 (DSP)
(1) Tesira TCM-1A (Pendant microphone)
(1-2) Tesira TCM-1EX (Extension pendant microphone; quantity depends on room size)
(1) Tesira AMP-450P (Optional in-plenum amplifier; typically only needed for large conference rooms)
(1) Tesira EX-UBT (HID device)
(1) AVB capable network switch
(2-6) ceiling loudspeakers (quantity depends on room size)
Google Hangouts Meet hardware

This is a general list of equipment needed. Specific equipment details for each room type can be found in their corresponding tech notes.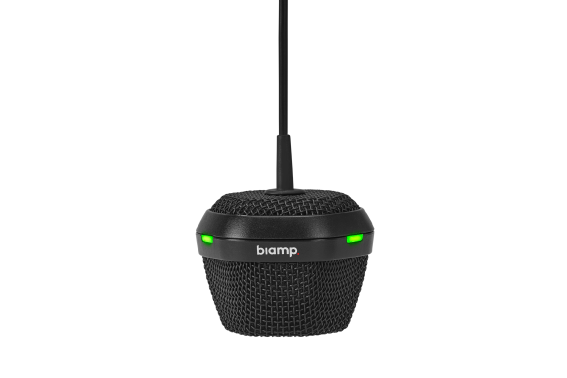 MIC AND SPEAKER PLACEMENT
Arguably the single most important element in a conference system is the room itself. A noisy and reverberant room will be less than desirable for conferencing applications. We recommend making the room as quiet as possible by removing or muting background noise sources such as HVAC or other mechanical sources. Hard surfaces like glass and wood floors make a room echo; we recommend installing acoustic panels or similar products to reduce reverberation. When properly applied, acoustic treatments yield dramatic conferencing improvements for most rooms.
Even though our Beamtracking microphones use state-of-the-art technology to track a person's voice, the laws of physics can't be ignored when deciding where to install the microphone(s). A good signal-to-noise ratio is critical. For this type of scenario, this translates to avoiding large distances between the mic and the talker. Our TCM-1 calculator will help find the optimal pendant height and distance between mic pendants for the room's size.
Here are a few more tips for best microphone placement:
Keep the distance between the person talking and the mic as short as possible

Position the mics as far from the ceiling speakers as possible (it helps improve the AEC performance)

Stay away from noise sources like projector fans and air vents

Placing speakers in a room can be as equally critical as finding the right spot for a microphone. Proper positioning of multiple ceiling speakers creates even SPL coverage and good speech intelligibility across the entire room. Use our Amplifier Power Calculator to help determine the SPL your speaker can produce when powered by our AMP-450P.
Download the latest design templates highlighting different Tesira and Hangouts integrations.



Success! Thanks for filling out our form!