Devio is easy to use, letting you connect quickly and focus on getting work done.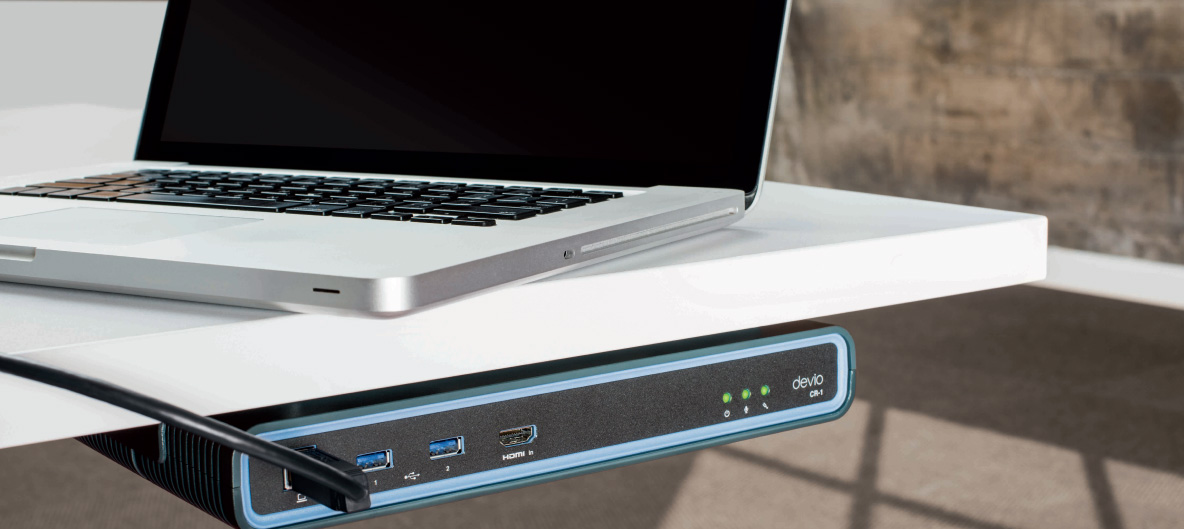 Huddle rooms are becoming increasingly common in modern offices, particularly as businesses shift toward open office plans.
The trend of open office environments—where dozens of workers share an open floor plan without traditional closed offices or cubicles—shows no sign of slowing. However, everyone still needs a private space to conduct meetings and conference calls without disturbing their colleagues. Traditional conference rooms are too large and formal for everyday collaboration needs. Huddle spaces are a natural complement to this growing need.

Biamp's value proposition for huddle rooms
We believe every gathering space, no matter how small, should be equipped with a high-quality audio and video conferencing solution that allows people to communicate and engage. That's why we created Devio. With a single USB 3.0 connection, Devio connects your laptop to the technology in your collaboration space, giving you instant access to the room's displays, speakers, microphone, web camera, and other tools. Thanks to Devio's convenience and versatility, you are free to collaborate in a small, private setting without compromising on technology. With Devio's active beamforming microphones, colleagues on the far end can follow the conversation in real-time, allowing the discussion to flow as naturally as it would if everyone were present in the same room.
---
Devio is a collaboration tool for modern workplaces that are constantly on the move. An idea that starts on the desktop or in a cubicle quickly becomes the subject of a spontaneous brainstorming session. In order to keep the conversation going, you must be able to seamlessly move the discussion from your desktop and expand it into the huddle room.
Devio

As a single-box solution, Devio comes packed with conferencing technology, doing all the work so you don't have to. Its beamforming microphone has three 120-degree zones, providing full 360-degree coverage of the meeting space. The Devio microphone tracks and intelligently mixes conversation from around the table, allowing far-end conference participants to experience the conversation as it unfolds, providing a real-time, collaborative experience. Biamp offers two beamforming microphone form factors—the DTM-1 tabletop microphone and the DCM-1 ceiling microphone—allowing you to place the microphone in the location that best suits your needs.

Devio Features:
• Single cable connectivity to laptop with USB 3.0
• Automatic room setup
• Acoustic echo cancellation and automatic gain control
• 8 element beamforming microphone in two form factors—tabletop or ceiling mount
Our sales and support teams are ready to help.
Contact us today.