From critical paging to conferencing, our tightly integrated systems allow you to run multiple solutions simultaenously.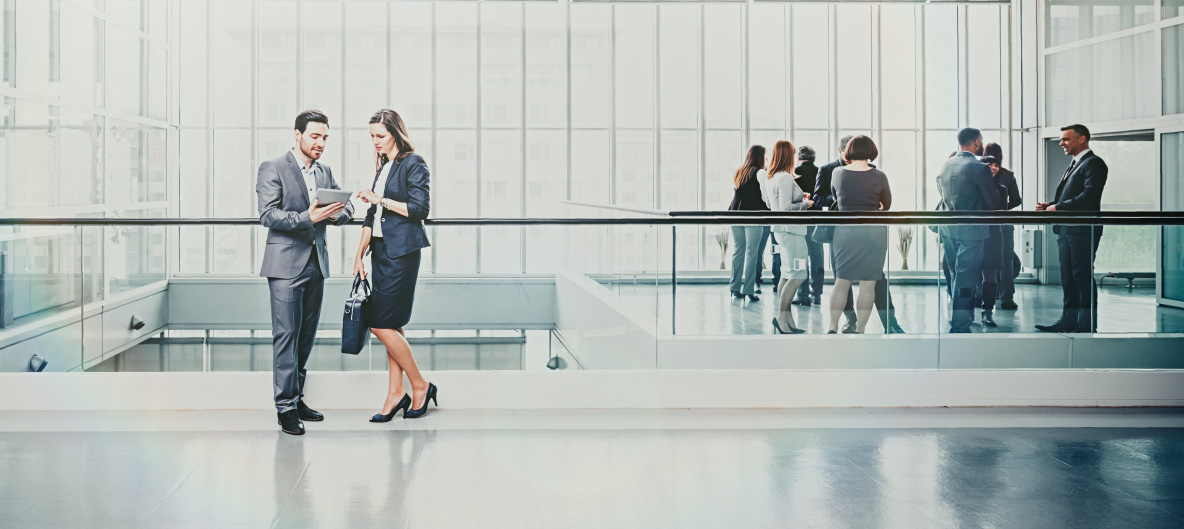 Having a multitude of stakeholders means the system (and you) must be incredibly flexible.
Networked audio and video and paging are ideal options for these properties. Biamp's networked media systems are flexible enough to serve the audio and video needs of rooms of all types, including lecture halls, boardrooms, and meeting spaces. Our solutions work together allowing you to pass audio such as background music from one system to another. In large facilities like a corporate or university campus, you can run multiple solutions simultaneously, maintaining pace with rigorous daily schedules and special events.

Biamp's value proposition for campuses
Tesira and Vocia can work together as a tightly integrated system, combining features to provide unmatched audio quality while leveraging hardware across platforms to reduce overall equipment costs.

Vocia provides campus-wide paging, critical paging functions and integrates with your fire life safety system. Vocia is capable of individual zone paging all the way up to campus wide paging. In a hybrid system that includes both Vocia and Tesira devices, Vocia can override Tesira equipment in enclosed spaces like classrooms and conference rooms to broadcast critical pages during emergency situations.

From small conference rooms to large auditoriums, the Tesira platform brings a true networked media system to your campus, providing audio conferencing, sound reinforcement, and video capabilities.

For huddle rooms and collaboration spaces, Devio allows connectivity to the technology in the room. And, with dynamic beamforming microphones, Devio allows everyone's voice to be heard by others on the far-end of the conference call.

With easy upgrades and hardware replacements, this system can grow along with your campus, and can be expanded or altered as new buildings are constructed or existing structures are repurposed.
---
Choosing the right technology is key to foster the growth and flexibility required for large campuses. Biamp offers a wide range of solutions for routing audio and video over the network, critical paging, audio conferencing, and even support for auditorium sound reinforcement.
VOCIA

Vocia is a highly reliable solution that provides excellent audio quality and manages all your paging, background music, and emergency communication requirements. It is powerful, scalable, and flexible, and can meet the needs of your facility now and well into the future.

Vocia Features:
• Standard paging and critical paging in one platform
• Decentralized networking with no single point of failure
• Loudspeaker impedance monitoring
• Scalable to grow with a company's needs
TESIRA

From auditoriums to executive boardrooms and small meeting spaces, Tesira can manage the audio and video systems across your facility. Tesira also facilitates cross-platform communication with Vocia.

Tesira Features:
• Audio and video routing across the entire company campus/network
• Scalable DSP with the ability to support AVB, CobraNet, and Dante protocols
• Acoustic Echo Cancellation (AEC) at the end points
• Stream, manage, and control background music across the campus/network
Our sales and support teams are ready to help.
Contact us today.