Flexible AV products that meet the demands of ever-changing spaces.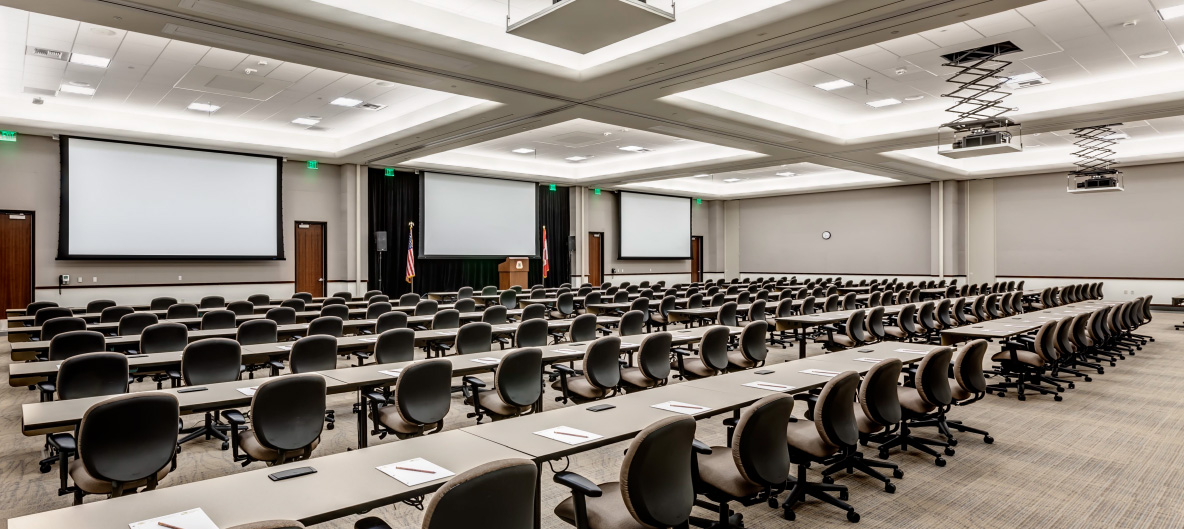 Equipment that is flexible and easy to reconfigure is a must.
As businesses evolve, single-use spaces are falling out of favor. Instead, organizations are choosing multi-use spaces that can be combined and configured to suit a wide range of activities. Examples include hotel and convention center ballrooms, lunchroom and cafeteria spaces that can be converted into meeting halls, and ballrooms that can be combined with adjacent rooms or divided using floating walls to accommodate audiences of different sizes. By definition, multi-use spaces must be flexible in terms of use and capacity, as well as room setup. In many facilities, a single-multi use space could host a lecture in the morning, a standing-room-only meeting in the afternoon, and a seated formal dinner in the evening.

Biamp's value proposition for multi-use spaces
Networked Media Systems are particularly adept at supporting modular rooms that require quick and robust reconfiguration capabilities. Tesira can manage all the audio and video processing in each of the rooms, and distribute the audio and video both within the room and across the network to other rooms. In addition, Tesira is the only platform capable of interfacing with and moving audio between multiple protocols, from AVB/TSN to CobraNet® to Dante™.

If paging is required, Vocia offers voice evacuation, zoned paging, networked paging, and more. Integrating paging with ambient noise compensation allows the paging volume to adjust up or down automatically, depending on the space's ambient volume. This ensures pages are audible and intelligible, which is critical during times of emergency, without being overly loud during normal business operations.

---
Multi-Use spaces demand AV equipment that is flexible and easy to reconfigure depending on the day's activities.
Tesira

Tesira creates a networked media system where audio and video can be processed and distributed to any desired ballroom configuration. TesiraLUX can accept and transmit video up to and including 4K60, helping to create an impactful video experience for attendees. Tesira interfaces with Dante™, offering additional options for input sources such as microphones. This, used in conjunction with Tesira's ambient noise compensation capabilities, ensures that the audio output remains intelligible.

Tesira Features:
• Audio and video routing across the network
• Scalable DSP with the ability to support AVB, CobraNet, and Dante protocols
• Acoustic Echo Cancellation (AEC) at the end points
• Stream, manage, and control background music across the campus/network
Vocia

Vocia is a highly reliable solution that provides excellent audio quality and manages all your paging, background music, and emergency communication requirements. It is powerful, scalable, and flexible, and can meet the needs of your facility now and well into the future.

Vocia Features:
• Standard paging and critical paging in one platform
• Decentralized networking with no single point of failure
• Loudspeaker impedance monitoring
• Scalable to grow with a company's needs
Our sales and support teams are ready to help.
Contact us today.